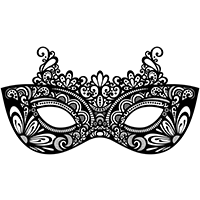 Soirées
Masquerade
At the Masquerade you step into a world of intrigue and sensuality. Gentlemen are in tuxedo, while ladies are elegantly dressed in evening wear or lingerie. Everyone enters through security wearing a mask. Members and guests come to enjoy our erotic theatre and socialize. Our soirées occur in California, New York and globally on the World Tour in secure and private clandestine locations. As you explore these environments you will discover guests enjoying each others company. We have rooms open for guests, and private lounges for Dominus members only, with free-flowing Crystal champagne served by our butler. We welcome voyeurs and participants alike, there is no pressure to participate. It is up to each individual how they wish to explore. There are important rules which dictate how our society functions. Our security strictly enforces our no photography rule, and Snctm operates on consensuality. We always ask before we touch. Any rules violation is grounds for immediate removal without refund. At Snctm we have opportunity to experience evenings of openness and sensuality that most only dream of. This Snctm soirée is limited to only 99 people, and takes place from 10 PM to 3 AM.
Dîner
Our Private Dîner transpires prior to the Masquerade and is a sensory journey into the world of Snctm. Guests are treated to a Champagne reception, exquisite cuisine paired with fine wines and an experiential dessert course with our Devotees. Dîner guests additionally have access to Masquerade for the evening. Dress code is tuxedo gentlemen, ladies in evening wear or lingerie. Approved nonmember couples who have never attended a Masquerade will have the opportunity to join us for Dîner. This is a way for us to get to know you, and also allow guests from around the world to enjoy a singular evening at Snctm. This Snctm soirée is limited to only 7 couples and takes place from 7:30 PM to 10 PM.
Pool Party
The Pool Party is a selective gathering of members and guests indulging poolside. Dress code for gentlemen is shorts required, ladies in bikinis or clothing optional. A selection of delectable cuisine, refreshing natural elixirs and freshly squeezed juices are on offer all day. Reserved loungers & tables with bottle service are available, along with sunbathing on plush oversized towels placed over Moroccan rugs. This Snctm Soirée is limited to only 99 attendees, and takes place from noon until sunset.